Marco Lang – watchmaker from Dresden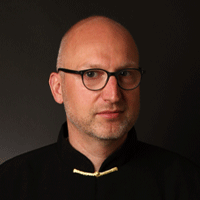 A watch movement consists of many parts. I take delight in manufacturing a part on the machine and perfecting its shape and fine finish under the microscope. Every single lever, every spring, every screw has its own architecture. Together they amount to a ticking feast for the senses. And yet they simply follow the physical necessities, the function of an accurate timepiece.
a ticking feast for the senses…
I create small mechanical machines, which after a while on the wrist of the owner are no longer regarded as such.
It's fascinating how the golden gears turn day after day, week after week and year after year, making the balance oscillate elegantly.
Meticulousness and a certain degree of uncompromisingness is also part of my work. Only a single inaccurate edge or surface can destroy the harmonious overall picture. Of course, it requires a lot of effort, from the construction to the production, finishing and fine-tuning of the watch created. Then I breathe life into it, create a small work of art,
that will last for many decades or even centuries. Today we – as independent watch creators – experience happy times, as many watch lovers and collectors have the same dedication and passion – and also the knowledge to appreciate our work and art. I am truly grateful, because it enables me to realise my ideas and create new ones.
biography
Quality, precision and the finest finish…
1971 Marco Lang was born in 1971 and is a fifth generation watchmaker. His father, Rolf Lang, worked as restorer of clocks and scientific instruments in the Dresden Art Chamber. Marco spent many hours in his father's workshop and learned about the works of great masters.
1989 During the fall of the Berlin Wall and the reunification of Germany, Marco Lang completed a three-year apprenticeship as a precision mechanic in Glashütte / Saxony. It was only after learning the fundamental mechanical production methods that Marco Lang traveled in 1991 to the famous master watchmaker Ihno Flessner in Northern Germany, where he completed his training as a watchmaker. Afterwards, he dedicated himself there for five years to the construction of precision pendulum clocks.
1999 Lang returned to Dresden and founded his first small company focussing on the sale and repair of antique watches. In the best family tradition, he soon made a name for himself among German watch lovers. But the passion for manufacturing his own fine watches continued to blaze in Lang.
At the beginning of 2001 he founded the watch manufacture "Lang & Heyne" with his companion Mirko Heyne (who soon left the company in 2002).
2002 the founders exhibited their first wristwatches in Basel at the AHCI stand and the small company quickly picked up speed. Lang's demand for quality, precision and finest finish now also fascinated many international watch lovers.
2013, the manufacture by then consisted of a team of 10 watchmakers who created about 30 watches per year, when Lang sold the majority of his shares to a German / American investor. This was accompanied by the foundation of "Uhren-Werke-Dresden", a movement supplier company for the watch industry, which Lang built up in its early years.
2019 Lang left the watch manufacture Lang & Heyne. Over the past 18 years, he has developed and constructed 9 different movements and a collection of 8 watch models and their variants with a price range of 20 to 150 thousand Euros.
2020 Under the motto "back to the work bench" Lang founded a new atelier under his own name. He wanted to realize his unbroken creativity and passion for the art of haute horology again with his own hands. It is no longer the development of a company that is the focus of his work, but the watch as a valuable, artistic piece unique.
Starting in summer 2020, Marco Lang will present his new project to international watch enthusiasts.